NSJF
http://northseajazz.com/index.asp
PICS
http://northseajazz.com/nsj885.html
http://www.rsfotografie.com/concertsartist2.htm
AitschJie hat nicht gesehen:
STEELY DAN (Weil mit zusaetzlichem Ticket versehen)
Steely Dan Steely Dan Steely Dan Steely Dan Steely Dan Steely
RAUL PAZ

RAUL MIDON (Weil ich das Blues Zelt CONGO besuchte s. u.
JOE BONAMASSA (Sehr guter Rock-Gitarrist.
Auf der Großleinwand sehr, sehr ansprechend)
GINO VANELLI FEAT. MICHIEL BORSTLAP
(Tip eines hollaendischen NSJ-Besuchers)
NEW GENERATION BIG BAND
THE ROOTS
AMY WINEHOUSE
CANDY DULFER
SNOOP DOGG
WYNTON MARSALIS
MARTIAL SOLAL WITH KONITZ
CHANO DOMINGUEZ
BAJOFONDO TANGO CLUB
TRIJNTJE OOSTERHUIS
KEB MO
MEDESKI, SCOFIELD, WOOD
TERENCE BLANCHARD
BUENA VISTA SOCIAL CLUB
STEPS AHEAD
KATIE MELUA
MARCUS MILLER
BENNY GOLSON & JOHNNY GRIFFIN
GESEHEN:
APPLE PIE HIGH SCHOOL ENSEMBLE
(Hoehepunkt: MACK-THE-KNIFE-MAMBO)
THE CAMPBELL BROTHERS
THE SOUL SEEKERS

THE HOLMES BROTHERS
TINEKE POSTMA QUARTET (klarinette)
(Pure Jazz, but no Percussion)
ERIC VLOEIMANS (trumpet)
GATECRASH

NEO SOUL of
HYPNOTIC BRASS ENSEMBLE
HYPNOTIC JAZZ ENSEMBLE IN NYC
search the internet by
hypnotic jazz ensemble
hypnotic brass ensemble
http://hypnoticbrass.blogspot.com/2007/02/cant-truss-it.html
http://concretebeat.blogspot.com/2007/02/brass-band-w-drums-hypnotic-brass.html
http://www.myspace.com/hypnoticbusiness
By Shanon Kelley
the other day I was wandering around Union Square killing time when suddenly from across the street infront of Whole Foods I heard an incredible sound that I couldn't quite place. I instantly made my way over to the sound and found myself in the middle of a large crowd of people gathered around Hynoptic Brass Ensemble. These 8 boys (7 of which are related) from Chicago definitely live up to their name. I couldn't leave! Their music is unlike anything I'd heard before. The sounded to me like a cross between a Baltic-inspired brass band with funk, jazz and soul infused. Honestly I was impressed and so was everyone else. I've never seen a group of New Yorkers relenquish dollar bills so quickly. And at least 10 people bought CDs immediately. I even saw a Union Square squatter-punk bobbing his head.

If you live in New York you might be lucky enough to see them as apparently the play Union Square and Times Square quite often. Otherwise they're playing this Friday and Saturday at Brooklyn Academy of Music, opening up for their good friend and fan, Mos Def. Unfortunately I already have plans but for those of you that don't you should definitely go. You can listen to them on their myspace page, but honestly it doesn't do this band justice - they're amazing!
Quelle:
http://www.papermag.com/blogs/2007/02/introducing_the_hypnotic_brass.php
hear on youtube
http://www.youtube.com/watch?v=BerDVqAjqx0&mode=related&search=
Leider sind diese Sounds wohl nur mittels ISDN perfekt
hörbar!!!!
HBE lieferten den perfekten Schlußpunkt zum NSJF!
Laßt das eure Posaunenchoere hoeren. Das ist der Groove:
der Neo-Soul, den es braucht, um Leute mit vibes und spirit
zu erfuellen.
Hypnotic Brass Ensemble
Lately (ok, ALWAYS), I've been so amazingly into jazz it frightens most mortals.
But every now and then I encounter people who think jazz is *gasp* boring.
Thankfully years of therapy and that time in juvy have deterred me from ripping
their heads off and instead I just suspect that they don't really know how
varied and totally awesome jazz is. Then I'd tell them to listen to something like
the Hypnotic Jazz Ensemble.
I first heard these guys just a few weeks ago on Free Fall Radio,
which you should all be listening to by now and I'd thought I'd
share 'em with all the Awesome readers.
Quelle: http://www.ohmythatsawesome.com/2007/03/hypnotic_brass_.html
Debut Release From Jazz Ensemble: Purpose Of Soul,
Explores Urban Beats with Old school Twist.
Purpose Of Soul is an artist group who brings a style of Jazz
that's a mix of Urban beats with neo-Soul vibes.
The Music is coined "Hypnotic Jazz For Cruising".
Pensacola, FL (PRWEB) March 7, 2004 --Purpose Of Soul's self title debut CD
is this groups introduction to audiences of a sound and spirit that combines
raw urban beats with neo-soul experience.
This presentation is theJazz ensembles first recording and its record label,
Observing Andy Record group/Rocknick Entertainment Holdings foray
into the jazz genre. Previous recordings from the label have been non-secular.
Group founder Bernard Davis III is a former DJ from Chicago,IL,
concieved of the group to satisfy his taste for "Urban Stepping",
which he decribes as an attitude walk of Urban society. This influence
along with Jazz influences of George Duke, Herbie Handcock,
and Paul Hardcastle has weld a sound that he has coined "Hypnotic Jazz for Cruising".
Comments from such Industry notables as Sandy Shore President of smoothjazz.com
Inc, has said that the CD is "Expertimental, and Haunting".You can see review
of smoothjazz.com.
The groups Label anticipates the release to be in the Fall of 2004.



Quelle:
http://ca.prweb.com/releases/2004/3/prweb109510.htm
National Trust: Neil Rosario: voc, keys /
Mark Henning: g /
Charles "Chuck-A-Luck" Hosch: b /
Keith Kruz: dr

The Hypnotic Brass Ensemble:
Smoove: tp / June Baji: tp /
Hudah: tp / Jafar Baji: tp /
Clef: tp / 360: dr /
El Cid: tb / LT: sousaphone


Das Enjoy Jazz Festival ist bekennender Fan des Chicagoer Labels Thrill Jockey. Aber während sich die große Aufmerksamkeit, die dem Label entgegengebracht wurde und wird sich meist an Bands wie Giant Sand, Mouse on Mars oder Tortoise kristallisierte, konnte vergleichsweise unbemerkt eine Platte an der Weltgeschichte vorübergehen, die genau das Gegenteil verdient hätte. Auf dieser Platte von The National Trust namens "Dekkagar" vereinte sich alles was man jemals auf diesem Planeten zwischen Curtis Mayfield und Brian Wilson rührend finden konnte.
Nun sind The National Trust mit einer Platte zurückgekehrt, die eine bemerkenswerte Wandlung durchmacht. Der Weg führte vom
Postrock-Funk der ebengenannten Art ganz eindeutig in die Disko.
In eine Disko, die es so noch nicht gab und in der man bei seinen
Streifzügen durch die Nacht immer zu landen hoffte.

Beim Hypnotic Brass Ensemble handelt es sich um acht Brüder
(einer 19-köpfigen Geschwisterschar!), deren Vater beim Sun Ra
Orchestra spielte. Und jener stammte, das wird bezeugt, eindeutig
vom Planeten Saturn. In diesen äußerst irdischen acht Brüdern des
Hypnotic Brass Ensembles vereinigt sich daher der ganze große
Haufen der amerikanischen und interplanetaren Musiklandschaft.
Und mit The National Trust gemeinsam auf der Bühne zeigt das
Hypnotic Brass Ensemble wie dies alles zusammenpasst.
Wir wissen es schon: Es passt intergalaktisch gut!
CD
Hypnotic Brass Ensemble
War / Mercury
CD
hypnotic brass ensemble -
brass in africa -
handcuts records - vinyl
Genre: Funk / Soul
THE ROOTS
Aber was soll ich hier viele Worte über eine der großartigsten HipHop-Live-Bands
wie die Roots verlieren, wenn Ihr Euch doch alle selber von den Live-Qualitäten
von ?Questlove & Co. kostenlos überzeugen könnt. Denn auf therootslive.com
stehen zahlreiche kostenlose Shows zum kostenlosen Download zur Verfügung.
Shows von der aktuellen Tour findet Ihr dort jedoch noch nicht.
In der American University in Washington, DC vom 17.08.2005) haben
The Roots "Don't Feel Right", die erste Single vom aktuellen Album "Game Theory",
dem HipHop-Album des Jahres 2006, bereits live performt.
Über das harte Leben auf Tour in good old Europe berichtet ?uestlove
in seinem Video Tour Diary. Ich sage nur 300 Euros.
Ein kleine Review mit vielen Bildern von Christian Bartsch vom Gig letzter Woche bietet die ZEIT online.
Now, download some hype live music, hit the beach and stay cool, muhfuckas. Peace!
Links:
The Roots Live
The Roots
?uestlove Game Theory Europe Video Tour Diary
Mit richtigen Instrumenten - ZEIT online



Bobby Matos & His Afro-Cuban Jazz Ensemble - Footprints
Bobby Matos' Footprints is one of the finest Latin jazz releases
of the '90s, a period where many players either delved so deeply
into traditional Afro-Cuban and Latin dance forms that they
forgot the jazz side of the equation or (more often) took
"jazz" to mean "inoffensive elevator music."
A straight-ahead Latin jazz album in the tradition of
Tito Puente or Machito, 1996's Footprints does an
outstanding job of bringing the Latin jazz tradition
back to prominence, but it's no mere
Wynton Marsalis-style hidebound traditionalism.
This is sublimely loose and frisky, richly alive music.
On Latin reinterpretations of jazz standards like
Wayne Shorter's title track or John Coltrane's immortal
"Naima," Matos and crew do more than simply
add a conga rhythm to a familiar melody line;
the group's push-pull rhythm section, led by Matos'
remarkably fluid conga and timbale playing,
gooses the soloists, particularly tenor saxophonists
Louis Taylor and Mike Turre, into exciting new
melodic explorations. Originals like the mesmerizing
"Oferere" are even stronger, melding hypnotic
polyrhythms with loose, searching horn and reed solos.
Magnificent stuff.
Stewart Mason, All Music Guide
C 2006 All Media Guide, LLC
Content provided by All Music Guide R , a trademark of All Media Guide, LLC.
Amos Lee
Dee Dee Bridgewater
Johnny Griffin
Marcus Miller
Ornett Coleman
ARTS: Nordseewellen-Performance
The Roots

AitschJies Traum: Tineke Postma
plays Miles Davis

<
Wynton Marsalis
AMY WINEHOUSE
INDIA.ARIE
JOE ZAWINUL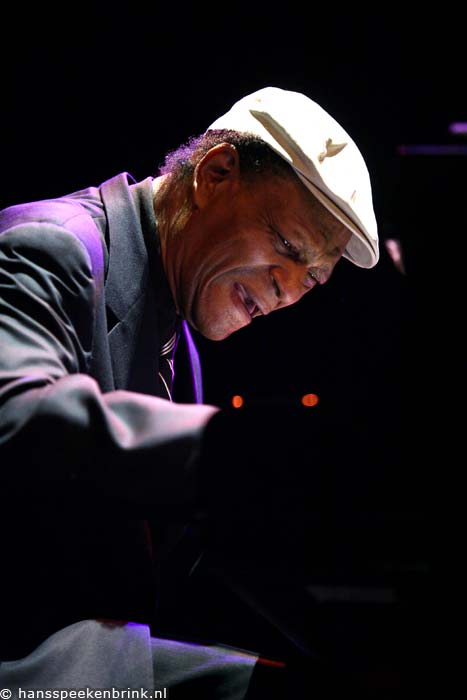 MC COY TYNER
/BUENA VISTA SOCIAL CLUB?
SLY & THE FAMILY STONE
SONYA KITCHELL
SNOOP DOG
TRINTJE OOSTERHUIS
Eingang des Ahoy – R´dam